Baby milestones: Time to share or simply enjoy?
(Read article summary)
Baby milestones are exciting events in the homes of new parents. Family and friends often pressure parents to document and share each and every baby milestone, but doing so can remove the parent from the actual experience.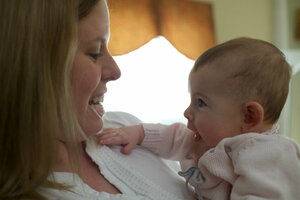 Molly Riley/AP
There's a notion in science known as the "observer effect" – simply put, it suggests that the very act of observing something can alter the material or process being observed. You can generally correct the observer effect by using more sensitive instruments or more sophisticated observation techniques.
But when you get to the quantum mechanical level where the objects are so tiny and so sensitive to change, you just have to take it for granted and factor it into your work.
I'm beginning to get to a point with my six-month-old son where I feel as though every baby milestone and interaction has this "observer effect" hanging over it. Regardless of what's going on – him trying avocado for the first time, for example, or executing his first thoughtfully balanced series of rolls across his play mat – my wife and I find ourselves torn by two oppositional impulses.
The first: to document each baby milestone, which means snapping smartphone photos or taking video, calling our parents, logging it in the baby journal, posting it to Facebook, ad infinitum. There is basically no limit to the number of ways we can document this stuff, and it seems as though a new one is being rolled out every quarter.
The other impulse is just to live it – to laugh, to look, and to talk in real time, not worrying too much whether we have some kind of permanent record of one very little, fleeting moment of joy and change among many.
---