Satellite falling: A 9-year-old hopes it's time for a space junk hunt?
(Read article summary)
Satellite falling: Astronomers say debris from a spent satellite could plummet to Earth over the Veteran's Day weekend. At least one nine-year-old is hoping to find remnants of the satellite falling to Earth for his upcoming science fair.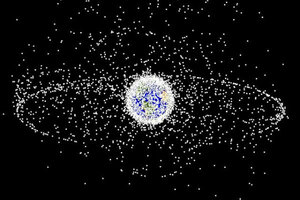 Courtesy of NASA Orbital Debris Program
According to NASA, there's a chance you or your child could become high tech versions of Chicken Little in the next couple of days when chunks of satellite falling from the sky plummet to Earth and into imaginations.
Technically it will just be a satellite falling, not the sky as Chicken Little famously assumed.
However, the European satellite that's run out of fuel and is set to drop from orbit in an uncontrolled entry to earth is part of so much technological junk raining down on us you might say that little chicken had a valid point after all.
From spent rocket boosters to weather prediction and satellites that help us GPS our way over the river and through the woods to Grandma's, humanity is producing new space junk faster than its predecessors can fall back to Earth, according to Space.com.
NASA even has an Orbital Debris Program Office, which shows projection models that look to me as if the "sky" is rapidly becoming nothing but space junk waiting to fall on our heads.
My nine-year-old finds this elating news because it means that he might be one of the lucky kids to find a piece of sky litter that he can take to school for the upcoming science fair.
According to The New York Times, "About 100 tons of debris will fall from the sky this year alone. There are, however, no known instances in which anyone has been injured by space debris."
That quote is fun because it's as reassuring to parents as it is disappointing to kids, who often love a little mayhem in their falling satellite action adventure stories.
While there won't likely be any injuries resulting from a crash, parents in the area where it does fall will have an opportunity to go space-junk hunting with kids.
---