Tithing, church giving dips; sign of the economy or value of charity?
(Read article summary)
Tithing and church giving in general has taken the most prolonged dip since the Great Depression. Is the economy to blame or perhaps a failure to teach that tithing and giving is an integral part of the spiritual life?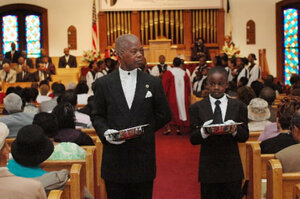 John Nordell/The Christian Science Monitor, File
The collection plate. The tithing. The special envelope. The Sunday school teacher stipend. The funds for the new heater, new roof, and new hymnals. The missions. The seminarians. The refugees. The homeless shelter, the cash for the hard-luck case who knocks on the parsonage door, the electric bill for the newly unemployed. Your church can, if nothing else, find you good ways to spend your money. But tithing and other forms of church giving are down of late – a victim, experts say, of the decline in church attendance, the economy, and, some say, a failure to teach that giving is an integral part of the spiritual life.
According to the Religion News Service, Open Tomb, a Christian research and service organization, reported last month that for 2011, the most recent data available, church giving was down for the fourth year in a row, to 2.3 percent of a member's annual income, from 2.4 percent the year before. It was the first such prolonged decline since the Great Depression. Some 100,000 U.S. mainline, evangelical, and unaffiliated Protestant congregations were studied, and though Catholics weren't included, previous data indicate their giving to be comparable, or slightly less, than the others. The drop affected not so much the local congregations, as the "benevolences," mission, and ministries outside the local church.
How do believers approach that great question of "stewardship," or, more plainly for today's purposes, "money"? Matt Branaugh, of Christianity Today's Church Law and Tax Group, sees giving theologically: "not a requirement, per se, but a response" to a loving God. In Christianity, at least, giving stems from and parallels the example of God, who sacrificed everything, including his son, for mankind. The believer, in turn, is moved to want to give back. The examples of this are all over scriptures: the poor widow who gave to the temple everything she had; the rich man condemned to hell for his years of ignoring the beggar Lazarus; the loathed tax collector Zacchaeus, who, affirmed by Jesus, was moved to give away half his fortune. And so on.
---