New batsuit buzz: Does the costume make the hero?
(Read article summary)
New batsuit: Comic guru Kevin Smith may think the new batsuit is 'awesome,' but some of the masked bat's youngest fans aren't convinced that it's the costume that makes the hero so super.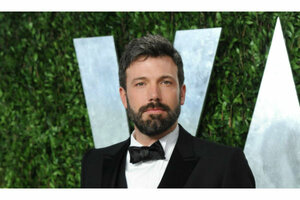 Evan Agostini/Invision/AP, File
The announcement that the new batsuit in the "Batman vs. Superman" movie is "awesome" probably means more to adult comic book fans than kids who are much more invested in what cool new phrases their brooding hero will utter.
While fans of the classic "THWACK!" and "KAPOWIE!" days when Adam West played Batman on TV in a shiny cowl, tights and a chunky, yellow utility belt can rejoice at reports that Ben Affleck's attire may hearken back to West and the actual Batman vs. Superman comic, kids walk around being Batman all day long in their jeans and Batman T-shirt.
Kids don't need a new batsuit when they have their imaginations and can base their playtime more on the most memorable lines spoken and scenes enacted in films. All they need from the new Batman is good writing and a sense of ironic humor.
Sadly, comic book characters like the new Batman are transitioning from page to screen and are being clad to suit cosplay, role play fantasy by adults (short for "costume play") rather than kids. Remember when comic books were for kids?
Batman is a prime example of kid play turned cosplay, having transitioned over the years from the emotionally scarred son of billionaire parents, orphaned by a street thug during a robbery, turned to crimefighting wearing a utility belt with a "Batarang" (boomerang shaped like a bat) to a heavily armored, weaponized franchise.
According to Business Insider, "Comic book lord and filmmaker Kevin Smith spilled during his latest Hollywood Babble-On podcast that he has seen a picture of Affleck in the new costume straight from director Zack Snyder and its awesome."
Two of my four sons, Ian, 18, and Quin, 9, stood before the computer this morning reading about the new, highly praised, batsuit and shared the same sentiment, "Meh."
"It's on Ben Affleck, so it really doesn't matter," said Ian. "Was Christian Bale not available?"
---