Paddling to the sea: the magic of imaginary play
(Read article summary)
Every child knows the joys of imaginary play, but it takes a skilled teacher to develop that imaginary play into intentional emergent curriculum.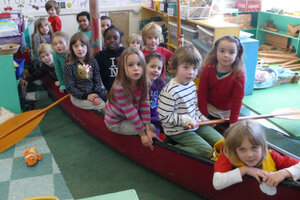 Todd R. Nelson
There's a canoe in the Kindergarten, and kindergartners in the canoe. They are paddling the great waters of Lake Superior, heading for the mighty salt sea. They are paddling to the sea, because they have been reading "Paddle to the Sea" by Holling Clancy Holling, the story of the Canadian Indian boy who whittles a wooden canoe one winter and places it in the snow at the headwaters of a watershed that includes the Great Lakes and ends in the sea.
His "Paddle Person" flows from stream to beaver pond to rapids to sawmill, along the freighter-lanes of Lake Superior to steel mills, waterfalls and locks. He ends on the Grand Banks off of Newfoundland and is returned, serendipitously, to his maker. Perhaps you remember this book. Perhaps you too are a Paddle Person.
Is there an educational watershed herein?
Even with a map, it's hard to comprehend such a journey. But now, for the kindergartners, such a journey is made real through some real props and some imaginative play. They have real paddles, real life preservers, a real red 17-foot canoe (they carried to the classroom from the school swimming pool – a portage!), and they are paddling hard, practicing man-over-board drills, and imagining the water route that will take them to the Great Big Water of the Atlantic Ocean. Paddle Person's journey has become their journey. Epic imaginative play.
Sure, paddling gets tiresome. And it's tricky getting everyone's paddle in and out of the water at precisely the same time, going the same direction. Furthermore, as young Jack told it, "We were in Lake Superior on our way down to Lake Erie. But the wind came up and the current was taking us away. So we needed to make a sail." As Plato says, "Necessity is the mother of invention."
Is that the wreck of the Edmund Fitzgerald down there? Time for a mast. Excellent. This will involve sawing a big cardboard tube (a grandparent just happened to bring one by that day), painting it, lashing it to the gunwales, and hoisting sails – teamwork! Now all hands on deck! And this canoe does hold everyone. Wait, what's a gunwale?
---