Town giant mushroom to star in local New Year's Eve celebration
(Read article summary)
Town giant mushroom: Kennet Sation, Pa.'s town giant mushroom will be the star of local New Year's Eve celebration. Several towns have adopted similarly quirky New Year's traditions.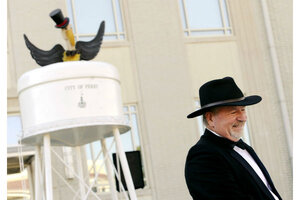 Jason Vorhees/The Macon Telegraph/AP
Rarely is it a joyful experience to have a giant fungus among us but in one Pennsylvania town a giant mushroom will drop on the populace to ring in 2014, reminding us that traditions don't have to be old – they just have to be memorable.
"I'd hate to see the toad that comes next," was my 10-year-old son's reaction to hearing that a 700-pound, stainless steel toadstool will be lowered from a crane Dec. 31 as residents of Kennett Square, Pa. count down to the New Year.
The town's giant mushroom sculpture will be more than 7 feet wide and 8 feet tall, a nod to the town's share of the national mushroom market. The area's farms account for about half of US mushroom production, according to The Philadelphia Inquirer.
In other New Year news, the town of Perry, Ga. is going to drop a buzzard in honor of the annual buzzard migration there.
"New York City may host the Apple Drop ... and Georgia's own Atlanta will host the pride of the Peach State's Peach Drop," Faircloth told the Macon Telegraph. "However, here in Perry, we were thinking of something more original."
---