National Adoption Day: My son tells it his way
(Read article summary)
National Adoption Day: For this National Adoption Day, one mother celebrates the individual that her son has become as he has grown old enough to define himself as more than an adoptee or a "lucky boy" into the person he is meant to be.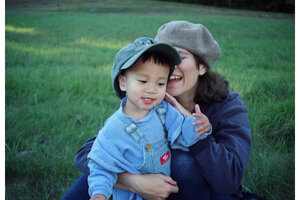 Robert Howe
Every morning, before dawn, we're awake and writing. My eleven-year-old son usually gets up first. I'll enter the kitchen, intent on coffee, and find him perched on a stool over the family laptop – the ancient iBook where he types his stories.
Sometimes, he'll tell me what they're about: a funny, complicated anecdote involving a school friend or a chapter in one of his fantasy worlds: the Tolkienesque realm with "dark elves," the city with zombie-battling teen warriors.
But most mornings, I just get a glimpse of a Word page on the screen, black letters marching along in paragraph blocks as he types. I see the curved back of my son's slender body, his black bangs tumbling toward the keyboard. I note other open pages, obscured by the one he's working on.
He's a tween. There's so much he now keeps to himself, as do most kids approaching the watershed age of twelve. But for an adoptee like my son, there's more at stake in describing life on his own terms and nobody else's.
Today is National Adoption Day – November is National Adoption Month – and it's a time to celebrate what adoption means to families like our own. It's a time to raise awareness about the hundreds of thousands of children around the world waiting to find permanent homes, especially those in foster care in the United States.
It's a time when I love to tell the story of how we became a family. Yet, on this National Adoption Day, I'm struck by my son's compulsion to write without my help or vigilance. I want to honor the many-layered stories that adoptees tell themselves, in secret and in public, and the way those stories enrich us all.
---