'The Twelve Days of Paying For an Infant'
(Read article summary)
As the annual breakdown of the 'Twelve Days of Christmas' carol into a consumer index hits the news, this dad breaks down the costs that really matter to him – the 'Baby Turning One Not Long After Christmas' Price Index.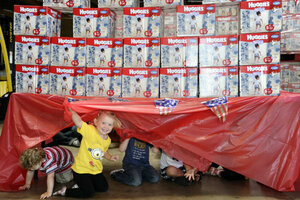 Rick Bowmer/AP, File
One of America's unlikely holiday traditions is the annual tedious breakdown of the Twelve Days of Christmas carol into a consumer index, along the lines of: "If you paid for everything mentioned in the song at today's price's, you'd be out a whopping..."
This year (and, seriously, how does one actually price ten lords-a-leaping?) the number comes to $27,393 according to the Christmas Price Index from PNC Wealth Management.
As a new parent however, I'm not even vaguely fixated by this figure, conspicuous though it may be. I've got my own carol-based problem to solve, the Baby Turning One Not Long After Christmas Price Index from Norton "Wealth" "Management." It looks a little something like this:
Twelve bottles shaking,
As the father of an infant who has effectively self-weaned at seven months, I have become painfully aware of the financial footprint left by formula. The stuff's not cheap. I'd ballpark 12 5 oz. bottles at about $17.
Eleven apples blending,
Baby food is such a transparent racket that we've gone to an all home-cooked fruits + veggies + quinoa + brown rice program for the solid food portion of our son's diet. Seconds are pretty cheap; let's put 11 apples for homemade applesauce at $3.
Ten Mum Mums crackling,
These little rice rusk crackers are great for babies for a number of reasons. They're light. They're safe (supervision still required, but they basically disintegrate before they become a choking hazard). They're fun for babies to grip. They're therefore distracting while you get solid food warmed up and ready to roll. 10 would be about $1.25, a relative steal.
---