Instagram envy: Remind kids to look for the whole picture
(Read article summary)
Instagram envy: Remind kids that despite glamorous posts on networks like Instagram, nobody's fabulous all the time, and if that's all they see, they're not getting the whole picture.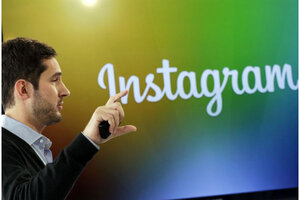 Mark Lennihan/AP
Here's a conversation about social media that would be good to have with our kids. You could headline it "Instagram envy"; The New York Times dramatically headlined it "The Agony of Instagram" (oh, brother). The fact that the article appeared in this week's Sunday Styles section I guess confirms that it's fashionable, at least for newspapers, to be dramatic about social media.
"For many urban creative professionals these days, it's not unusual to scroll through one's Instagram feed and feel suffocated by fabulousness," the Times reports. (Perfectly appropriate to roll your eyeballs.) It's not only urban creative professionals who might feel thus suffocated. Young people might too – though it's only fair to add that many teens who tire of social media showboating seem to be smart enough to move on to the more spontaneous, less showy Snapchat, where any showboating usually goes away really fast and is mostly just for fun. This would be great family discussion for when kids first start using Instagram (in many cases, when they're 4th- and 5th-graders, apparently [see this]).
'Instagram envy' nothing new
But back to "Instagram envy." First of all, only the Instagram part of this is new (and not actually that new). It was preceded by "Facebook envy," which was preceded by many other media-related and in-person kinds of envy, going back to the version addressed in Judeo-Christianity's 10 Commandments (referred to there as "covetousness") and probably in the wisdom literature of all the world's faith and ethics traditions. So it wouldn't hurt to revisit envy using activity in social media to help kids get a little perspective.
Second of all: Obviously, social media isn't the only place where envy can happen; but social media presents a great opportunity to apply a little critical thinking both to what's being seen in it and to how we're reacting – at least to notice how we're feeling and responding. It's the noticing that gives users a little emotional space (i.e., freedom from envy). We can help our kids think about how the images they're seeing and sharing are just the surface – and barely that – of who they and their peers are. They usually know this, once they've had a few moments to think about it.
---