Winter storm Hercules: Herculean effort to help homeless
(Read article summary)
Winter storm Hercules: It takes a Herculean effort from one mom to set an example for her kids and help homeless adults, teens, and families through winter storm Hercules.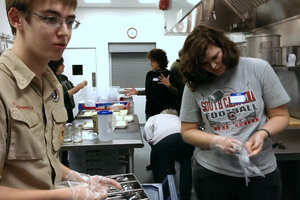 Lisa Suhay
As winter storm Hercules takes hold of the East coast, parents have the opportunity to give older kids the mixed blessing of volunteering to help shelter and feed homeless adults, teens, and families before having to turn them back out into the storm.
This morning I woke at 4:30 a.m. after driving home to Norfolk, Va. from our first epic family trip to New York, New Jersey and D.C. with winter storm Hercules nipping at our heels.
Every fiber of my being wanted to remain in bed, but my parental conscience nagged me because I had signed everyone in the family up for shifts with the NEST (Norfolk Emergency Shelter Team).
Though still destroyed from the six hour drive the night before, I kept reminding myself, "If I bail, so will all the kids when their turn comes and I will have nobody to blame but myself."
My husband is the one who saw the signup sheet Christmas Eve after service at our church and said, "We really need to start getting the boys to volunteer in a variety of ways."
However, I have never done this before and so I had no idea what to expect. That's why I took the first shift, so I could then prepare the kids before they jumped in to help.
Nothing could have prepared me for this morning's experience of seeing a defeated, 19-year-old homeless boy waiting in line for a cold, hardboiled egg, choice of oatmeal or cold cereal, toast, and Tang or hot tea.
Our furnace quit in October and this old house is barely warm with the space heaters, even less so today with the driving wind off the Elizabeth River two houses down the street. I inwardly grumbled about this as I dressed in the dark.
---