Supervolcano blowing smoke? Young scientist says so.
(Read article summary)
Supervolcano reports in the news are capturing the attention of many parents, but plugged-in kids might find a supervolcano of little surprise after what science fare they find online.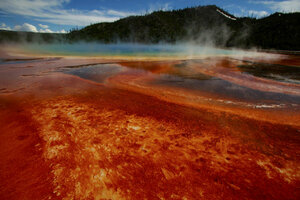 Jim Urquhart/Reuters/FILE
While scientists trumpet the potential catastrophic results of a supervolcano causing planetary extinction, parents should not be too quick to jump on the story as science fair fodder for their kids, because this news could be a snooze thanks to YouTube science fare.
The annual rite of passage for parents and kids – the school science fair – is coming up later this month. So, when I read the BBC News report this morning stating that it is much more likely than once believed that a "supervolcano" – like the one underneath Yellowstone National Park – could explode and wipe out civilization as we know it, the first thing I did was tell my son Quin, 10.
None of my sons have ever wanted to build a science fair volcano, like the one my dad and I made together years ago, because it seems they have become so cliché.
Quin's project is on making a "true mirror" by placing two mirrors at right angles in order to counter the reversal that a common mirror makes of our reflection. He'd seen a Vsauce video on YouTube about why people don't like what they see when looking at photos or videos of themselves. That's because the mirror shows us a reverse or "untrue" image of ourselves, which we come to know and accept.
"I'd rather see how I really look than make some boring, goopy red mess all over the table," Quin explained.
Maybe I was being a little childish in offering the supervolcano news this morning, hoping he'd see mom's idea wasn't lame after all.
Because this is about something I believed was cutting edge, I expected him to erupt with excitement, amazement, scientific curiosity, and wonder.
"Meh," he said with a shrug. "When you think about it, it's not nearly as scary as the ones on Mars. If the biggest one on Mars erupts it could turn the planet inside-out."
Okay, but we don't live on Mars.
---