Baby talk study: One-on-one builds language skills quickly
(Read article summary)
A new study soon to be published in the journal Developmental Science finds that baby talk in a one-on-one setting, as well as how vowel sounds in words are exaggerated, are linked with better language development skills. One mom realizes that jokes are a big part of her baby talk repertoire.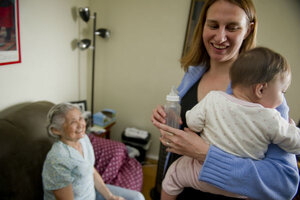 Ann Hermes/Staff/FILE
A new study that will be published in the next issue of "Developmental Science" reports that parents who engage in one-on-one conversations with their children, and emphasize vowels and different sounds within words, are much more likely to help their children's language development now and in the future.
This research differs from previous studies on the effects of talking to your baby in that it identifies the social context and type of speech patterns that also make an impact on your child's ability to learn language.
"What our analysis shows is that the prevalence of baby talk in one-on-one conversations with children is linked to better language development, both concurrent and future," said Patricia Kuhl, co-author of the study and co-director of University of Washington's Institute for Learning & Brain Sciences.
Not just any baby talk, researchers say, but talking with exaggerated vowels and a raised pitch of the voice. For example, parents cooing "How are youuuuuu?" elicited more babbling – the forerunner to speaking actual words – in researched babies, and it was most effective when one parent spoke to a child individually.
I spend most waking hours around my son William, 1. We have lots of "conversations" throughout the day, mostly involving me talking to him. These studies can be both inspiring and intimidating to new parents, as we try to discern the best path forward in teaching our children. William and I interact one-on-one for most of our waking hours. So, the big question this study poses for me is this: what am I actually saying to him all day long?
---