Bilingual benefits: Raising a child with two languages
(Read article summary)
Raised with parents only speaking Arabic at home, one mother learns the benefits of raising her own bilingual daughter and shares tips for raising a child proficient in two languages.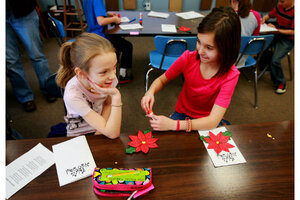 Alan Rogers/Casper Star-Tribune/AP/FILE
We had a simple family rule when my siblings and I were growing up: speak Arabic at home. For the most part we did, especially when speaking with our parents, who were born in Egypt and Arabic was their native language.
But often times, it would be easier to speak in English with my brothers and sister, so we would slip a couple of English sentences here and there. My parents reminded us to switch back to Arabic whenever they overheard our conversations.
I never realized until I grew older how important that house rule was until now. The reason my siblings and I are bilingual is because of that "speak Arabic at home" rule. More and more families are realizing how important it is to preserve their native language. In the US, studies have shown that bilingualism has tremendous cognitive and social benefits compared to speaking only one language.
Some benefits include: better concentration, cultural awareness, increase in creativity, problem solving, multitasking skills, and advantages in finding jobs later in life.
Parents can begin exposing their children to more than one language at any age. However, it is highly recommended that parents begin introducing their children to the minority language as soon as they're born.
Research shows that when children learn a second language before the "critical period" of age of five, they are less likely to have an accent and to speak as fluently as native or near-native speakers of that language.
---