How often do we get on our kids' level to help solve problems?
(Read article summary)
The telling of the fairy tale about the rooster under the table reminds us that often the best solutions in parenting result from getting down on our kids' level and join them to learn how they see things.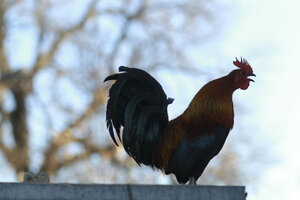 Greg Barnette/The Record Searchlight/AP
I recently saw an exhibit of Art Spiegelman's many years of brilliant comic work at The Jewish Museum in New York. One comic strip caught my attention as brilliant parenting advice. I share it here.
The comic was Mr. Spiegelman's fairy tale of a Prince who told his father, the King, that he thought he was a rooster. His father laughed it off, but the Prince kept up his belief. His father, getting concerned for his son's mental state, dismissed and belittled his son's fantasy. The more the Prince seemed convinced, the more his father rebuked him and the more the Prince regressed into his roosterdom until he eventually spent all his time naked under a table crowing.
The King called for help from his kingdom and soon long lines stretched from the castle door for miles. But no one could cure the Prince. Finally an old man with a long beard and no credentials arrived claiming he could help. The King was at the end of his rope and hopelessly sent the old man to his son.
The old man looked under the table where the Prince huddled and listened to his story. The old man told the Prince that he was a rooster too, stripped off his clothes and joined the Prince under the table. The Prince was thrilled and comforted to have a fellow-rooster to keep him company. One day, the old man crawled out from under the table and stood up to stretch. The Prince, horrified, asked what he was doing. The old man said, "Even roosters need to stretch once in awhile." Interested, the Prince crawled out from the table and took a much-needed stretch himself.
---