A return to 'paleo parenting'
(Read article summary)
Do our hunter-gatherer forebears have something to tell us about the recipe for parenting? What is old is new again. 'Paleo diets' are all the rage. How about applying some 'paleo parenting' principles to raising kids?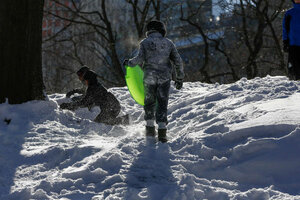 Shannon Stapleton/Reuters
Surely you've noticed the trending of the so-called "paleo diet." Once I'd heard the term a few times – and my daughter had experimented on me with some of her paleo cookies – I had to do some research.
"The paleolithic diet is a nutritional plan based on the presumed diet of Paleolithic humans," says Wikipedia, the fount of all foraged knowledge. "It is based on the premise that human genetics have scarcely changed since the dawn of agriculture, which marked the end of the Paleolithic era, around 15,000 years ago, and that modern humans are adapted to the Paleolithic diet."
Could it be time that we applied such throwbacks to former times to a few other things beside our eating habits? How about a healthier diet for the mind and child development? What would that look like?
One of my favorite texts about learning and childhood makes a potential "paleo parenting" recipe. May Sarton was a Maine poet who attended a progressive school. She remembered her zeal for learning in a chapter from her autobiography, "I Knew a Phoenix."
"We children must have seemed a primitive insurgent tribe," she writes. "We were not subjected to a theory of education. We were set down in the center of a primal force at work. We never knew what would happen next, but what did happen was always immensely interesting. Everything we learned was alive, hunted down, a private possession."
During my 30-year career in elementary education, I have carried this passage around in my intellectual "hip pocket." I return to it frequently, for inspiration. Ms. Sarton has transposed the language of hunter-gatherers onto the elementary school day. It's what makes her description passionate, energized, and un-school-like.
Who wouldn't want to go to school (or work!) every day if that's what you had to look forward to?
---