Homemade lasagna: Seasoned with family memories
Using a family recipe means taking time to enjoy the process.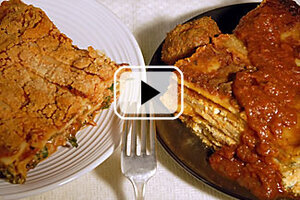 Joanne Ciccarello - staff
The first aroma that would waft into my childhood bedroom on a Sunday morning was the smell of onions and garlic frying. That scent would wake me up. I would hear the sizzle as the onions hit the hot olive oil in the pan; the sputtering sound of the crushed canned tomatoes following suit occurred moments later. In my parents' home, Sunday was macaroni and gravy day (you might call it "pasta" with "sauce"), and holidays offered the hallowed lasagna.
Relatives would stop by after church with a warm loaf of bakery Italian bread to chat for a bit before returning home to their family's version of this classic. Inevitably, when my mother wasn't looking, we'd grab hunks of the warm loaf and dip it into the pot, blow on it, and devour.
On cue, my mother would complain that someone had left bread crumbs in the sauce. It was a kind of joke since my mother indulged as well. We couldn't help it. The richness of the sauce, the sweetness of the tomatoes and meat simmering – who could wait until dinner?
Lasagna was for special occasions. The ricotta always came in a can punched with holes to drain the excess water. The Parmesan or Romano was grated by hand, a task saved for the daughters who were to follow in this art. Even the parsley was fresh.
Today, for special occasions, I make an extra trip to a favorite Italian deli where I buy the ricotta made fresh in Connecticut and delivered twice daily. I buy the grating cheese there as well. My favorite is pepato Romano – Romano cheese dotted with peppercorns.
For many years it was difficult to find scamorza, a tangier, saltier version of mozzarella. To my delight, local supermarkets are carrying it again so I use that as a substitute for the mozzarella when it's available.
---