Pastries to please the palates of presidents
Former White House pastry chef Roland Mesnier shares his memories of five administrations.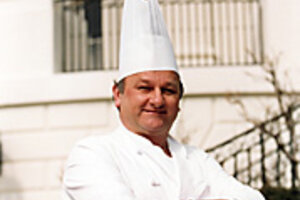 Courtesy of The White House
When first lady Rosalynn Carter approached Roland Mesnier for a job at the White House, he was dumbfounded. "Why me?" he asked. He hadn't fully realized that his care and precision in the kitchen had established him as one of the nation's best pastry chefs.
Mrs. Carter was determined to pluck him out of the kitchen at the venerable Homestead resort in Hot Springs, Va., and put him to work making desserts in America's most famous residence. After his initial refusal ("I was happy at the Homestead," he says), she eventually won him over. 
It was a life-changing career move for Mr. Mesnier, who was raised as one of nine children in an impoverished French family from a tiny village in Burgundy. He never imagined he'd work in the "presidential palace of the most powerful nation on Earth," he writes in his memoir, "All the Presidents' Pastries." But even after 26 years at the White House making everything from spectacular sugar sculptures for state dinners to simple desserts for family suppers – beginning with the Carters and ending with the Bushes – Mesnier's head never got too big for his toque. 
When speaking recently at the French Library in Boston, the now-retired Mesnier shows, despite his stardom in the culinary world (prior to the White House, he worked at such luxury hotels as the George V in Paris and the Savoy in London), he hasn't strayed far from his humble roots. While he hopes his rags-to-riches story can inspire others, he also insists that a chef is "no more than a servant," and that one must "never forget where and for whom you are working." 
---