Remarkable, versatile fennel
It looks like a vegetable designed by Dr. Seuss and tastes like licorice.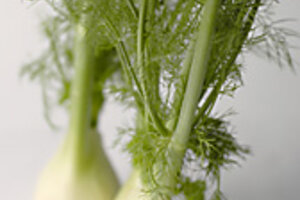 Mark Thomson
Fennel is one of those odd-looking vegetables that looks like it came out of a book by Dr. Seuss; flat and pale with a wrinkly bulb and feathery stalks that look like a stalk of celery with a bad hair day. Appearance aside, this Mediterranean product is going through somewhat of a Renaissance. Lately it's been making more TV appearances than Ryan Seacrest – on the Food Network, anyway.
And if you're familiar with this anise-flavored vegetable this is probably no surprise. If fennel is a stranger in your kitchen, it's time to introduce yourself. This remarkably versatile vegetable is at home in stews, as a boiled vegetable, in soups (it's an essential ingredient in a good bouillabaisse), salads, and grilled with fish. Sliced and served raw, it brings a refreshing crispness to nibble on before a meal. It adds an uncommon, slightly licorice flavor to whatever it touches.
The variety mostly sold in markets today is sweet, or Florentine, fennel. It is also sometimes sold under the name anise, although it has no relationship to that plant.
Fennel is available throughout the year except for summer. Look for firm white bulbs with bright green fronds. Avoid any bulbs with brown bruises, rot, or those trimmed of their feathery leaves. Fennel can be wrapped and stored in the refrigerator for several days. Freeze the leaves and use them to flavor chicken stock, chop them and add to soups, or add them to your coals when grilling fish. If you have a garden, try planting a crop for the finest fresh flavor.
---