Just desserts for a backwoods boy-turned master chef
Even his school counselor laughed at Marshall Faye's dream of baking. Now the master chef has the last laugh.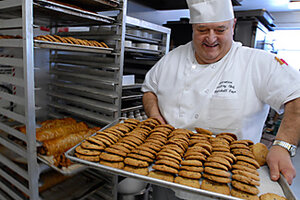 Mary knox Merrill – staff
By the time he was 12 he could hunt, skin, and butcher dinner for his family. But what Marshall Faye really wanted to do was knead, roll, and bake sweet treats.
"When I told my friends I wanted to be a pastry chef, they told me baking was for girls, and laughed," Mr. Faye recalls with his trademark burly exuberance. "My high school guidance counselor told me to stop joking around."
Cooking and baking weren't considered appropriate for boys of the 1950s, especially sons of Vermont's Northeast Kingdom, a wild region so named because once upon a time the locals yearned to form their own nation. It was a rugged place where children brought their deer hunting rifles to school. Faye was no exception.
But it's Faye who has the last laugh now. He's reached the gooey heights of pastry perfection – royalty of sorts in the world of haute cuisine. Gourmet magazine, Bon Appétit, Saveur, and Country Journal have all featured him. And once, on a home shopping network he sold, in mere minutes, hundreds of his linzertortes – his signature creation for the Trapp Family Lodge here, where he's been the executive pastry chef for the past three decades.
• • •
All eyes are on Faye as he leads his Wednesday class for would-be bakers at the lodge. The master chef still looks as if he'd be just as comfortable pursuing bear through dense Vermont forests, or snagging smallmouth bass in Lake Champlain as he plunges his large hands into a crumbly concoction that will become cranberry and white chocolate chip cookies.
"My grandmother made the best brownies, fudge, and cookies," he says, explaining the provenance of his talent. "It wasn't unusual to make things all fresh. You couldn't just go down to the store and buy a candy bar."
---