Dressed-up veggies
Asian-inspired vegetarian cooking can be flavorful and fast.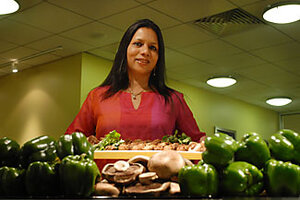 Mary Knox Merrill – staff
Hema Parekh is the author of two cookbooks on Japanese cuisine. A lifelong vegetarian, Ms. Parekh grew up in India but has spent the past 25 years living in Tokyo with her husband and two children. Her most recent cookbook is a fusion of Asian traditions, "The Asian Vegan Kitchen: Authentic and Appetizing Dishes from a Continent of Rich Flavors." She recently sat down for an interview with the Monitor to talk about vegetarian and vegan dishes following a cooking demonstration at Northeastern University in Boston.
How has cooking vegetarian or vegan meals changed over the past 20 years or so?
I think it is a revelation that vegetarian cooking can be fun. The flavor of each of the dishes comes from the ingredients and fresh herbs.
When I [first arrived in Japan] 25 years ago, [many people] did not understand what it meant to be a vegetarian. They presumed that vegetarians only ate salads or stir-fried dishes, steamed or boiled vegetables. So it was very important to explain ... that you could be eating delicious food from different cuisines and still be a vegetarian [or] a vegan.
In your cookbook, you emphasize how the different Asian cuisines have influenced one another. Do you feel that Asian dishes are constantly evolving?
---