A Spanish classic evolves
In Spain, chefs and home cooks love to experiment with the country's favorite cold soup, gazpacho.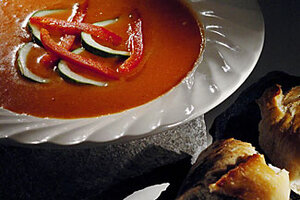 T. Ortega Gaines/Charlotte Observer/MCT/NEWSCOM
For the world's most innovative chef, it all started with gazpacho.
Ferran Adrià's restaurant, el Bulli, located in Catalonia, the northeastern region of Spain, is frequently ranked as the best in the world. It is certainly among the most imaginative. Dinner there this summer includes "olives" made from an intensely flavored juice "spherified" with hydrocolloids, sea anemone dotted with rabbit brains, and a complicated dessert called "Autumn," that uses liquid nitrogen, freeze drying, and other gee-whiz techniques to turn chocolate into a gorgeous fall landscape.
Traditional Spanish cuisine it's not. But as Chef Adrià tells it, his earliest creative impulses were inspired not by exotic ingredients or scientific technologies. They were inspired by one of the oldest of Spanish dishes.
"We asked, 'what is soup?'" he recounted at a conference last year. "And then we started to experiment. We made a hot gazpacho broth. We made a white gazpacho sorbet. We made a frozen gazpacho granita. It wasn't a revolution; it was an evolution."
Gazpacho is one of the most venerable of Spanish recipes, a concoction that dates at least as far back as the 8th century, when the Muslims who ruled al-Andalus (as they dubbed Spain) introduced a cold soup made of ground almonds, bread crumbs, oil, and vinegar to the local culinary repertoire.
A version of the soup may be even older – food historians trace the word's origin to "caspa," the Latin for "fragments." But it wasn't until Europeans reached the Americas and discovered tomatoes and peppers that gazpacho became the liquid salad we know today.
For centuries, gazpacho was subsistence food, a dish that peasants could make from leftover stale bread, a few drops of olive oil, and a tomato or two plucked from a scraggly garden. During famine, even the tomatoes would be omitted.
---