Put your fruit to the fire
Grilling caramelizes a fruit's natural sugars, lending it an outstanding flavor.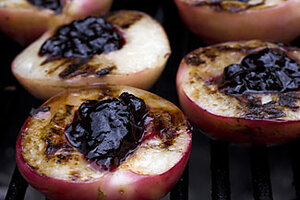 Larry Crowe/AP/File
Venture a guess what your neighbor will be cooking on his backyard grill this coming Labor Day weekend, and fruit is probably the last thing that comes to mind. Burgers and dogs, for sure; a salmon steak, maybe; and peppers and onions, perhaps; but strawberries, nectarines, or mangoes? Doubt it.
"Many people still think grilling is only about a hunk of meat," says Steven Raichlen, host of the PBS series "The Primal Grill" and author of many bestselling books on barbecue. "Grilling fruit is the last frontier – in America at least." He explains that in some parts of the world, especially Southeast Asia, grilled fruit is ubiquitous on every street corner.
Mr. Raichlen and other grilling gurus wonder why it's not more common to put fruit to the fire here. They say that fruits, especially those that are most succulent – pineapple, peaches, nectarines, plums, and mangoes – are an ideal match for cooking over flames, as grilling caramelizes fruits' natural sugars, producing an outstanding flavor.
The simplicity of grilling fruit also adds to its appeal. It's certainly easier to throw a few peach slices on the fire than to make and bake a peach cobbler, especially if the rest of the meal is produced on the grill, too. The host can avoid the heat of the kitchen all night, and typically, one can create a memorable dish by merely brushing the fruit with melted butter or olive oil and sprinkling it with a bit of sugar and cinnamon.
In her latest cookbook, "Grill Every Day," Diane Morgan devotes an entire chapter to grilled fruit, which she has enjoyed for years not only as a dessert served with vanilla ice cream, for example, but also in savory dishes such as salads or alongside grilled pork or chicken.
---