Explosively delicious
Inspired by a fantasy novel, a teen cooks up a sauce the family raves about.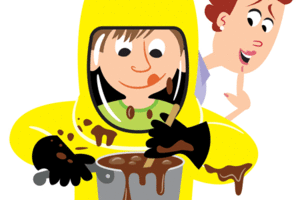 Scott Wallace
"Let me get this straight. You want to make an exploding sauce?"
My 16-year-old son looked at me with that patient expression reserved for unimaginative dimwits. Exploding sauce, he assured me, happens only in books by Terry Pratchett, the British fantasy author whose zany novels for adults and young people have been compared to "Alice In Wonderland," Monty Python, and "The Hitchhiker's Guide to the Galaxy."
"Haven't you heard of Wow-Wow Sauce?" he asked. "A classic English condiment – delicious with meat. It'll be delectable. Trust me."
I smiled tensely. Pachi is a resourceful home-schooler. When he decides to cook, he has more in mind than making brownies from a mix.
His early efforts resulted in a free-for-all stew he called "slompy-dompy," leaving me and the kitchen in a meltdown. Lately though, his experiments have earned raves. My book-group friends enthused over his almond cake. His chicken curry with coconut sauce was a standout. He even makes my special meatloaf. Plus, he leaves the kitchen spotless.
"OK," I said. "Wow me."
And he did. Served warm over sliced roast beef or veal chops for our family dinner, his zesty Wow-Wow Sauce was a delicious discovery, albeit from an unusual source. Savory with mushrooms, earthy with walnuts, tangy with mustard and vinegar, it explodes only with flavor.
In Pratchett's novels, Wow-Wow Sauce is the favorite condiment of Mustrum Ridcully, archchancellor of Unseen University. Mr. Ridcully inherited the recipe from an uncle "who, after half a pint of sauce on a big meal one evening, had a charcoal biscuit to settle his stomach, lit his pipe, and disappeared in mysterious circumstances, although his shoes were found on the roof the following summer."
---