Make way for Ramadan – in my fridge
As the month of fasting nears, I'm reminded of the sticky messes in my ice box.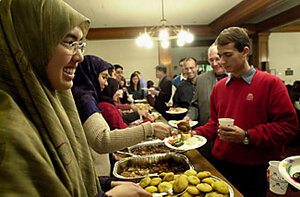 John Nordell/The Christian Science Monitor
As the Southwestern desert heat gradually abates during the month of Ramadan, my annual venture into the unknown does not involve hiking outside the city limits of Tucson, Ariz., where I live. Rather, it involves contemplating the sticky recesses of my refrigerator.
What does Ramadan have to do with my refrigerator? Well, all during this month, Muslims worldwide fast during daylight hours in an effort to purify their daily lives. And I've come to realize that this cleansing should include my fridge, too. So my avoidance of scrubbing out this appliance, with its year's worth of lingering items, usually catches up with me just prior to Ramadan.
Before the month begins, I have to shop for foods that are traditional when breaking the daily fast. In my home, the two most important items for breaking the fast are dates and pakoras (a deep-fried fritter made of sliced potatoes, onions, spinach, and spices smothered in a batter of chickpea flour).
Since the Islamic calendar is lunar, the month of Ramadan has lately been progressing into summer. Dates are hard to come by in most stores during this time because they're out of season.
Fortunately, there is a great Middle Eastern grocery in town that stocks dates and pakora ingredients.
I must admit, oftentimes in years past, more of my focus has been on preparing the nightly Ramadan iftars (dinners) than on the job of cleaning out the ice box.
This year brings the same annoying dilemma as the past 29 years of fasting: To clean or not to clean? And what will I find in the refrigerator if I do try to clean it?
Years ago while scrubbing, I came across a curious growth in one vegetable bin.
---