Summer in the land of pomegranates
A taste of the ruby, sweet-tart pearls told me I was back home in Iran.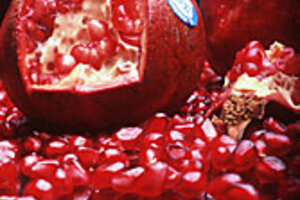 Ari Denison/The Christian Science Monitor/FILE
As yellow leaves spiral down from the maple tree outside my office window, I find myself thinking about Persephone, who, according to Greek myth, will soon be heading back to the underworld. A few pomegranate seeds – a few luscious, scarlet pearls that burst, tart and sweet, on her tongue – and she had to return to the underworld for a season every year.
As the grass fades to pale brown and the foliage peaks in reds and oranges, I can imagine a pitched cry from Demeter, who loses her daughter again each year. Then, while Persephone pays penance in the underworld, we experience the silent mourning of winter.
I've always been intrigued by the way the Persephone myth captures the melancholy of fall and the intensity of love. And then, for me, there's the pomegranate, the succulent, lush fruit.
I was born in Iran where pomegranates are native. My favorite foods were flavored with pomegranate. – pomegranate syrup – is a staple in every kitchen. I was only 3 when my American mother and Iranian father gathered our few possessions and booked a one-way flight to Texas. But once there, we continued to eat Persian food, with steaming saffron rice and fenugreek-laced stews, and, when we could find it, pomegranate.
In Texas, I felt as though I had a secret life. I was just another girl to my classmates, but I knew a world where everything was different. We spent summers in Tehran where I slept under the stars at night, curled in my grandmother's arms. I drank fragrant tea, steeped on a samovar.
Even a pomegranate, a rare thing in Texas, was an ordinary fruit in Iran. It sat on the fruit platter, and after my grandfather and I – stretched out like cats on the Persian carpets in the den – played more games of cards than we could count, he would take a knife and saucer, reach for a cucumber, an orange, or a pomegranate, slice away the skin, and we'd eat.
---