Rustic and refined ratatouille
This humble peasant dish is so rich and flavorful, it could almost pass for dessert.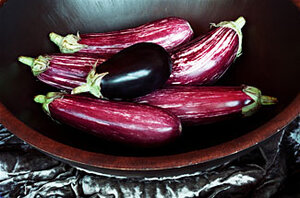 Melanie Stetson Freeman/The Christian Science Monitor
Ratatouille is the essence of early autumn captured in a single pot. Tomatoes, eggplant, squash, peppers, onions, garlic, and herbs are at their peak of freshness and therefore, their best tasting, most locally accessible, and often least costly. One would think cooks everywhere would be snapping up these ingredients at the closest farmers' market and rushing them back to the stove to make multiple batches of ratatouille.
At least in America, ratatouille seems better known as Pixar's delightful animated film by the same name than as a dish that delectably melds some of the best crops of the year. Ratatouille is nowhere to be found in supermarket deli cases, where it could easily coexist beside other prepared foods such as quiche, chicken stir-fry, or manicotti. Forget locating it in the frozen food section, and don't even think to look for it on a restaurant menu.
Some suspect that eggplant is to blame. Fat, purplish-black, and often mushy when cooked, it is perhaps the least-loved vegetable in the land – and it figures prominently in this dish. Others point to ratatouille's lack of sophistication, but there's no one like Thomas Keller to have changed that – for Hollywood, anyway. As consulting chef for the film, the owner of such refined restaurants as The French Laundry in Napa Valley and Per Se in New York, created an upscale ratatouille dubbed "Confit Byaldi," with its elegant spirals of eggplant, tomato, and zucchini placed atop a bed of multicolored peppers.
---