Simple, savory sardines
A taste of the fish transports me to the scenic Maine coast where the last US cannery operates.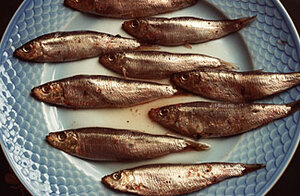 Melanie Stetson Freeman/The Christian Science Monitor
While looking for some long-lost birdseed recently, I found an old package of crackers in the back of the room we call our pantry. It had been part of a gift basket from a couple of Christmases ago but was still sealed and showed no sign of having been nibbled on by mice. I announced my find to my wife, Jeannie, who cautioned me that they might have gone very stale over the years.
"No problem," I announced, "I'll take them to work and eat them with sardines. That will hide any stale taste."
"Two wrongs don't make a right," cautioned Jeannie, who does not share my enthusiasm for sardines.
I'm not sure whether I like sardines or the places sardines make me think about. The heavy, oily, fiercely fishy taste of canned sardines can be wonderful on the right kind of day. On a hot summer day, with the south wind blasting, a tin of sardines on crackers with a couple dozen sharp capers and a bottle of tart cranberry juice make a great lunch. Some days, I'll admit, the thought of so thoroughly fishy a fish is more than I want to contemplate.
Even on days when sardines are just too heavy a meal to eat, the idea of them still transports me to magical places. The North American sardine industry once thrived up and down the coast of Maine and New Brunswick. Throughout the first half of the 20th century, new canneries popped up in little towns up and down the coast.
Fishermen caught young Atlantic herring in simple barriers of branches and net, called weirs, strung across tidal bays. Graceful sardine carriers (80-foot wooden boats pointed at both ends) hurried the catch to canneries where workers, many of them young children, whisked them into cans to be sold as sardines. The whole industry depended on the deep coves and high tides that give the coast of Maine and New Brunswick much of its charm. The California fishery that John Steinbeck made famous in "Cannery Row" started later and ended earlier than the industry in Maine.
---