Pumpkin possibilities
The versatile orange fruit is a star in the kitchen.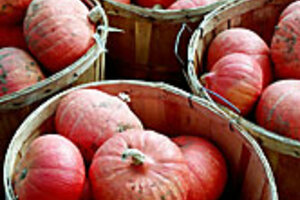 Melanie Stetson Freeman/Staff
Depending on where you live, the pumpkin crop this year was either abundant or abysmal. Some of the gourds suffered from torrential summer rains; others benefited from perfect weather to yield a bounty of plump orange. Reports say that rain is responsible for "skinny" pumpkins in Illinois. Rising fuel prices are to blame for Arizona's jacked-up pumpkin prices. Texas simply fears a shortage. Long Island reports its best crop in years. But whether you buy your pumpkin for $1 from a farmer or $17 from an urban center, the fact remains that these humble gourds are still in high demand. And they aren't just for carving anymore.
No longer are pumpkins carved with a ghoulish grimace or toothy grin, then confined to the front stoop to welcome (or frighten) Halloween trick-or-treaters and left to rot. Today pumpkins are hitting the home-fashion runway. Although the big, bulbous, orange ones are still used mostly for jack-o'-lanterns, dozens of varieties are readily available that aren't destined to go under the knife, but are used in their natural, whole form as home decoration.
There's one for every decor and taste: round ones, flat ones, pinks, grays, and even whites. There are ribbed pumpkins, smooth ones, warty ones, and those with splashes of mixed colors. Some are small enough to nest in a 5-year-old's palm. Others are grown strictly for their gargantuan size. They're trucked to autumn fairs where they can tip the scale at more than 1,500 pounds.
But as Peter, Peter Pumpkin Eater knew, where taste really matters is in the kitchen. Still, except when pumpkins make their appearance at Thanksgiving as the ubiquitous pie, they tend to be overlooked as an edible offering.
---