Deep-fried and delicious
She's no cook, but she has mastered one family favorite: fried chicken.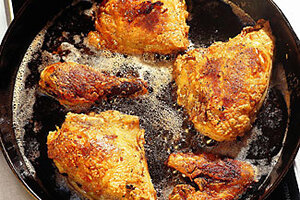 Bob Fila/Chicago Tribune/Newscom/File
I spent nearly 95 percent of my childhood afternoons close to my grandmother's kitchen. It was a perennially pristine room devoid of cookbooks and electronic appliances, and it became my first introduction to culinary perfection as its stoves and ovens churned out everything from oblong peach turnovers and vegetables prepared straight from the backyard garden to unreproducible dishes such as "hash," a meat stew indigenous to the Deep South.
Unlike my grandmother, I can hardly cook anything at all, at least not without consulting one of my 22 cookbooks or plugging in one of a half-dozen electronic devices.
In the year since she passed on, I've realized that hours with Julia Child, Fannie Farmer, or Ruth Reichl won't help me.
Because my grandmother never used them, I believe that the best cooks do not refer to recipes. Soul food is personal. And dishes such as my grandmother's hash are like lost art, with little hope for recovery. So I've accepted the fact that I'll never be a real cook – except when it comes to one dish: my grandmother's double-battered fried chicken.
Dinner time broke up the period between television watching and homework and signaled that my mother would be coming to pick me up soon.
The meals were not leisurely, but I managed sometimes to watch my grandmother prepare my favorite meal, fried chicken accompanied by one of the 21st century's most maligned side dishes: mashed potatoes.
My weekly fried chicken consumption ended when, as a teenager, I convinced myself of the meal's perils.
---