On the trail of the perfect recipe
She wanted to re-create the cream puffs she had tasted in Venice. Was that possible or just a pipe dream?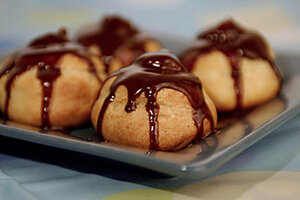 Joanne Ciccarello/Staff
Sometimes a cream puff isn't just a cream puff. Sometimes it's proof that with enough recipes, plenty of trial and error, and a little perseverance, the ultimate in a food experience can actually become a possibility in your very own kitchen.
For me, the ultimate was a Venetian cream puff (as in Venice, Italy, too far to go for a regular fix).
This gem of a pastry managed not just to skirt the usual pitfalls of cream puffs, but also to surpass my expectations. This wasn't just some dry, mutant version of a Boston Cream Pie. This was a brilliantly balanced combination of light but substantial pastry; fluffy, deep chocolate filling; and a crown of luscious glaze.
I ate one every day of our stay in Venice. And I've dreamed about them ever since.
But why dream when you can bake? Which is exactly what I did recently. In a burst of cream-puff creativity, I tested pastry recipes, frosting recipes, and cream-filling recipes by the dozen.
Re-creating a beloved recipe at home is something almost anyone can do, even without professional cooking experience. If you can analyze and compare existing recipes – and especially if you know the basics of food science – you're well-equipped to begin experimenting. If you can synthesize the results of those experiments, success is guaranteed.
Oh, yes – being unafraid to make a few mistakes along the way definitely helps, too.
One thing that's intimidating about finding the "perfect" recipe is that there are so many out there. This is what I found on the puff front: A simple recipe works best. No need for a food processor. No need for special browning techniques. A straightforward recipe from "Joy of Cooking" proved to be my favorite. I just needed to tweak the cooking times to get the puff to my version of perfection.
---