The search for saffron
On the trail of the world's most expensive spice.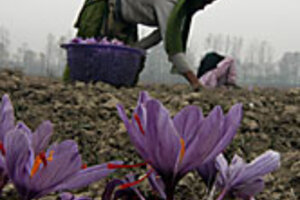 NEWSCOM
Landing in India is like falling into a bag of spices. The colors, scents, flavors, and sounds of the place stimulate all of the senses.
Among the most affected: taste. Indian food is known for its strong flavors – like the country, the food is never bland. There are some spices that will make you cry and then there are others that are so subtle that you barely notice them.
Recently, I encountered saffron – the most expensive spice in the world. I happened to be at the right place at the right time when I was traveling in the Himalayan valley of India-administered Kashmir. This is where you find the best saffron, and it is the place from which most saffron is exported to the rest of the world. It is still hand-plucked in the traditional way – and only during a couple of weeks a year.
I had been asking about the saffron fields since I arrived in Kashmir. I wanted to know where I could find them, and, most important, how to get there. This is not a tourist destination, and getting there can be a bit tricky.
Finally, on my last day, I managed to find someone who knew the owner of a saffron field and offered to drive me there.
The fields are just outside the town of Pampore, about a 20-minute drive from the capital, Srinagar. In Pampore, I met with the owner of a saffron field, Mohamed Maqbol Shah, who was more than happy to show me around. After picking him up in front of his house, we continued the journey in our jeep.
---