Pie crust: a baker's triumph
For many home cooks, mastering the art of a flaky pie crust is considered an unattainable feat.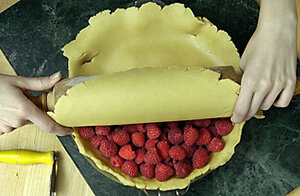 NEWSCOM
As a home baker, I love receiving compliments on the cakes and cookies I pull out of my oven. But nothing pleases me quite as much as hearing praise for my pie crust. That's because I'm a late bloomer when it comes to pies. Whipping up batches of gingersnaps and lemon bars has always come naturally to me. But mastering the fine art of flaky pie crust? That was something I once considered an unattainable feat.
After all, I had read book after book cautioning fledgling bakers of the possible pitfalls awaiting the unwary. I knew before ever attempting my first crust what I was up against. "Don't handle the dough more than necessary. Don't add too much water. And don't reroll the dough," were only the beginning of the seemingly endless list of perils I was warned about.
Forgiveness, I learned, was not an attribute of pie crusts. They seemed to demand obedience to rigid rules or all efforts were doomed to failure.
As much as I enjoyed eating these flaky pastries paired with creamy coconut and juicy apple fillings, I'll admit I let the idea of tackling pie crusts continue to intimidate me. Consequently, I limited my kitchen adventures to less challenging pursuits such as brownies and banana bread and contentedly skirted the issue.
Such was the state of affairs until I moved to Montana some 20 years ago. That's when I discovered that most home bakers I met made huckleberry or rhubarb pie – at the very least – and did a darned good job of it. In addition, these bakers usually acted like mixing pastry dough was as easy as eating dessert.
Ask about their crust recipe, and the response – more often than not – was a puzzled look that translated to the equivalent of "What's hard about pie crust? You just mix flour with shortening, salt, and water." Right.
Then, one memorable day, a generous-hearted neighbor shared her favorite pie crust recipe with me. Although I knew she relied on that recipe so much she had taped it to the inside door of her kitchen cupboard, it still took some convincing for me to become a believer.
---