Irish chefs return to their roots
When the Irish first became prosperous, they turned their backs on traditional food. Now it's making a comeback.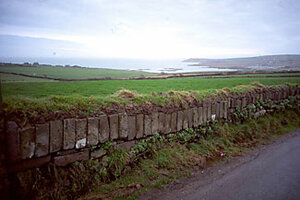 Alfredo Sosa/Staff
Not so long ago, visitors in Ireland seeking a culinary holiday would have been greeted with blank stares by their hotel concierge, who would have promptly directed them to the nearest French or Italian restaurant. The Irish have long been know for, but not particularly proud of, their meat-and-potatoes cuisine. Of course, all this has rapidly changed since the economic boom of the 1990s. The current recession notwithstanding, residents have become well-acquainted with the finer things in life – especially great, home-grown food.
Today, Ireland has gourmet food shops galore, as well as plenty of ethnic eateries – beyond the usual haute cuisine imports from continental Europe – owing to the influx of immigrants from Eastern Europe, Africa, Asia, and South America. The country also boasts six restaurants with Michelin stars, Most of these are run by native sons, foremost among them being Kevin Thornton, the first Irish chef to earn two Michelin stars for his eponymous restaurant, Thornton's, in Dublin's Fitzwilliam Hotel.
---