Seafood stew as an easy way to travel
The mingling of its cultural flavors offer a midwinter adventure.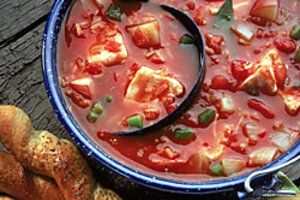 Fish and tomato stew/Newscom
Who says seafood stew can only be enjoyed on Christmas Eve? No one tells a man from Marseille that he can only enjoy a steaming bowl of bouillabaisse, the Provencal city's most celebrated dish, on special occasions such as Bastille Day. So why should a Bostonian, with a similar abundance of fabulous fresh seafood at her doorstep, only cook up a steaming pot of local fish, clams, or lobster on Dec. 24?
I've resolved for 2009 to move this dish beyond its holiday tradition. Like roast turkey and all its delectable trimmings, seafood stew is just too good to savor only once a year.
Seafood stew comes in so many different incarnations that one can never grow bored of it. Without plunking down a cent for a plane ticket, any determined cook could sample the world's cuisines right at home, touring Asia with stews from Thailand, Cambodia, the Philippines, which might incorporate curry, coconut milk, and fresh lime juice; or the Mediterranean with seafood stews from France, Spain, and Italy that feature olive oil, garlic, and sometimes saffron. Of course, many other parts of the world, such as the Caribbean, Mexico, and North Africa, also boast excellent seafood stews.
---