An everyday beverage is transformed
Tomato juice doesn't have to be 'ordinary,' a grandmother demonstrated.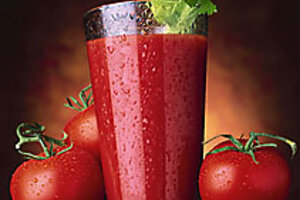 NEWSCOM
Shortly after my parents met, my grandmother Donaldson invited my mother to dinner and served homemade tomato juice. Mother sipped the ruby liquid flavored with a hint of cloves that tickled her nose. Unlike the bland tomato juice she had previously experienced, the chopped onions, white pepper, and apple cider vinegar added a snap to each swallow, and their zest lingered on her tongue.
My grandmother had endured the Great Depression while raising four sons. During those lean years, she had discovered how to enhance an everyday beverage and make something special.
My parents soon became engaged, so who knows what part that tomato juice episode played in bringing about their marriage? But I like to think of it as one food that linked their hearts.
Throughout my childhood, the story of my grandmother's tomato juice often came up during family dinner conversations. But I never tasted the concoction because by then my elderly grandmother no longer filled the blue Mason jars in her basement.
I regretted the loss when others described its flavor. For me, the taste of the juice became an unexperienced treasure whose mystique expanded over the years, and although my mother canned tomatoes every fall, for some reason, she had never asked for the family recipe. But after my grandmother passed away, Mother found her handwritten instructions tucked away in a collection of recipes. Her eyes brightened as she reminisced about that first sip of juice, and she pocketed the card.
---