The traveling rice cooker
The best meals we had in Italy came from my mother's suitcase.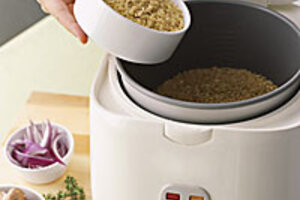 NEWSCOM
In a country known for its chicken cacciatore, pasta Bolognese, and spaghetti and meatballs, my favorite meal came out of a rice cooker in a hotel room.
My mother had bought a 220-volt rice cooker, knowing that she'd crave her favorite Indian foods during our two-week family vacation in Italy. My parents don't like to eat out much. So to save money, my mother had brought a roll-along suitcase with the rice cooker packed inside along with a few other ingredients we'd need: rice, spices, mustard seeds, semolina, and a couple of sweet potatoes.
"You actually brought sweet potatoes?" I asked, laughing. "You know, I'm pretty sure they have those here."
My mother smiled and continued to unpack, knowing I'd be happy later on that she packed those sweet potatoes.
"Maybe we should hide the rice cooker in our safe so the cleaning ladies won't report it," I joked. "We'll need an entire can of air freshener to cover up the smell."
Considering how proud Italians are of their cuisine, we were happy they didn't burst in with a SWAT team smelling of garlic, Parmesan cheese, and sun-dried tomatoes.
But I couldn't joke about the food my mother made. While we strolled through piazzas during the day, we stopped and ate a plate of pasta, a slice of pizza, or a cup of gelato. But at night, when we came back to our hotel, my mother made us lentil soup and flavored rice dishes. Those quick meals reminded me of the dishes she made at home, where she slowly stirred broths and soups in boiling pots. We laughed about how well and cheaply we ate during our trip.
We didn't realize how fortunate we were to have home-cooked meals until we met another Indian family on a boat heading to Murano.
"My kids are dying for some sambar satham," the woman said, excited about returning home to Paris to make the South Indian staple dish.
"I actually made some last night," my mother said, mentioning the rice cooker.
"You're kidding," the woman said, shocked, but also impressed by my mother's inventiveness.
---