Barbecue, North Carolina style
Different regional flavors inspire lifelong devotees.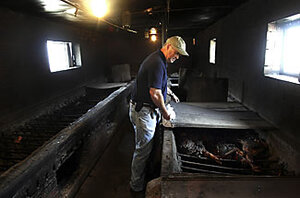 Jim R. Bounds/AP
Spend enough time in certain parts of the United States and you get the distinct impression that barbecue is a lot like religion. While all barbecue involves the cooking of meat over a fire, this most primal form of cooking has fractured into a multitude of sects and splinter groups, and even the most ecumenical devotees tend to be loyal to one form of barbecue above all others.
Then again, maybe barbecue is more like college football. Good or bad, folks tend to love the 'cue they grew up with, whether it's ribs in Kansas City, beef brisket in Texas, or a pulled pork sandwich topped with coleslaw in South Carolina.
"It's a local sport to argue about barbecue," says Dale Volberg Reed, a writer in Chapel Hill, N.C. "People grow up with loyalties to colleges. They grow up with loyalties to barbecue. And they have a hard time switching."
For Ms. Reed and her husband, John Shelton Reed, real barbecue is that which is practiced in North Carolina. They've written a book devoted to the subject, "Holy Smoke: The Big Book of North Carolina Barbecue," written with William McKinney. While the part-cookbook-part-manual may not spark waves of apostasy in other centers of American "barbeculture," its many recipes, along with a wealth of history, lore, photographs, and illustrations, make it a worthy addition to the groaning shelf of works on barbecue – and an excellent guide to the Tar Heel state's distinctive interpretation of a great American cooking style.
---