Chefs in the making
Cooking schools help teens build culinary skills and confidence.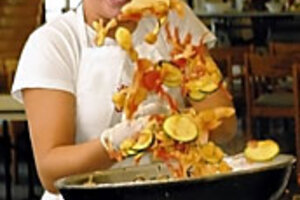 COURTESY OF JULIAN KRINSKY SCHOOL OF COOKING
The current obsession of elevating chefs to rock-star status has made it easy for cooking schools to attract teenage students who want to learn to cook or who might be considering the field as a career. But to keep them focused for two or more hours requires savvy adult guidance.
"Today's kids know what they want, and they go after it with determination," says Tina Krinsky of the Julian Krinsky School of Cooking. "The Food Network, recipe websites, magazines, and an array of innovative cookbooks all play an important role in their decision-making process."
What teens seek from cooking school classes is the type of culinary knowledge and information that will help them realize their dream. Jill Prescott of Jill Prescott's Ecole de Cuisine sums this up simply as "experiencing the miracle of creating."
Many students see cooking as providing a creative outlet, instant gratification, and, if done well, tasty food.
At Jill Prescott's, it can be as easy as making the perfect omelet or sautéing vegetables. Students learn that when they follow the rules, master the techniques of cooking, and understand some of the chemistry of food, they experience success. When that happens, the kitchen erupts with expressions of joy: The students have taken a glob of dough, kneaded and shaped it, and turned it into a beautiful and delicious pastry.
Learning to use piping bags, balancing the flavors of a stew, and filling the room with the seductive aromas of baking bread all bring about instant gratification. To highlight the moment, there are lots of smiles and clapping and look-what-I've-just-done remarks.
"This is especially significant when all these experiences are presented structurally, rounded off with some relevant culinary information that they can always apply," Ms. Prescott says. "At that moment, a miracle occurs. A light bulb goes on in the teenager's head, and they leave class empowered, proud, like rock stars, quick to share their new talent with family and friends."
---