Ceviche: All you need is raw fish, lime juice, and patience
Eight hours marinating in lime or lemon juice is the 'cooking' part of ceviche, a versatile seafish dish that each Latin American country puts its own spin on.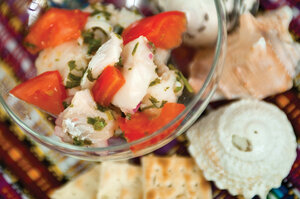 Joanne Ciccarello/Staff
"This isn't quite what I imagined," my friend Jenna said as we looked at the dish that had been set before us. In tall glasses lined with iceberg lettuce were bits of sea creatures, including baby octopuses.
We were in Bocas del Toro, Panama. On a whim we had fled the oncoming chill of winter, seeking sun and surf. After a 24-hour journey, we had checked into a youth hostel, settled into hammocks in the open-air lounge, and listened to the rain pound on the tin roof. Relentlessly.
Bocas del Toro sits on the edge of the rain forest in the Caribbean. Surfers love this place because it is more off the beaten path than neighboring Costa Rica. But the surf that crashed over craggy rocks looked intimidating to beginners like us. And now our night on the town was threatening to be a disappointment with the arrival of this dish called ceviche.
I had been eager to try ceviche that "cooks" raw saltwater fish in citrus juice. Jenna had described the flavor as "delicate" and "ohmygosh, yum." I wondered if I was missing something as I chewed on a rubbery, miniature tentacle.
Back at the youth hostel we regrouped. Surfing had suddenly been replaced by the need for sun.
Two young men recently out of the Israeli army and sitting on the next bunk over showed us pictures of a recent trip on their digital cameras. We saw crystalline waters, blue skies, and palm trees of the San Blas Islands. "That was my favorite hammock," said one, pointing to a low-slung swath of striped cloth hanging next to a thatched hut. "All you will need is one change of clothes, a swimsuit, and a book." Done. The next day we flew back to Panama City.
Upon arrival, we secured our travel arrangements to the islands for the following morning, and headed out for dinner. In a nearby European-style plaza was a restaurant that featured ceviche on its menu – lots of it.
---