St. Martin island flaunts its French food
While exploring St. Martin, the 'Cuisine Capital of the Caribbean,' the writer eats the local French food and discovers a gourmet paradise.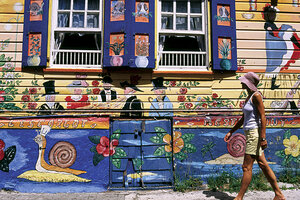 Greg Johnston/Newscom/File
It wasn't just the sugary beaches and warm turquoise waters that winked at me. It was the self-proclaimed appellation as the "Cuisine Capital of the Caribbean" that drew me to the tropical island of St. Martin. Half Dutch, half French, what more idyllic a spot to experience the foods of both mother countries than this place?
Savoring visions of 16th-century Dutch masters' paintings of carpet-draped tables groaning under the weight of wild game, oysters, ham, and lobsters, I spent my first day combing the streets of Philipsburg, capital of the Dutch side. The closest thing I could find to authentic Dutch cuisine was a shop that sold Gouda. I checked my guidebook for restaurants: Indian, Chinese, Japanese, Italian, American, French, German – even Moroccan. But nothing Dutch.
It was the irresistible aroma of garlic and plaintive strains of Edith Piaf that stopped my wandering. I eagerly climbed the steps to L'Escargot, a French restaurant housed in a colorful cottage on Front Street.
The luncheon selection was easy: snails. Plump and tender, some snug in their shells and dripping with garlic butter, others stuffed in cherry tomatoes topped with Roquefort, still more tucked in profiteroles and mushroom caps. Best I'd had since dining at L'Escargot Montorgueil in Paris.
Sampling today's dessert with the owner, Joel Moran, I turn the conversation to food, of course, especially French cuisine.
---