Chowder to ward off winter's chill
As February's dampness descends, this potato fish stew -- sometimes sans fish -- offers warmth from within.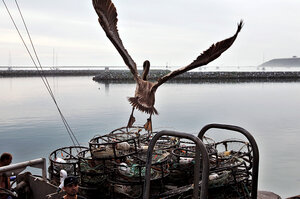 Paul Sakuma /AP
Let's hear a few whimpers for poor little February. This second month of the year is the shortest, the most mispronounced (the first "r" is invariably ignored), and often the coldest.
To find shelter from February's bone-chilling bite, I find comfort at night snuggled between flannel sheets, under two down puffs and a Scottish terrier; and during the day, leaning over the blue flames of a gas stove, slowly churning up a steaming, aromatic pot of viscous chowder. (Someone once observed that having dinner at my house in the winter was like eating in a meat locker.)
If spring and summer are salad days, the winter months are reserved for stews and chowders.
So what, exactly, is a chowder, as opposed to a soup, or even a stew? The line between them is as squiggly as a ramen noodle and fuzzy as a kiwi fruit.
One thing we do know for sure, is the word chowder is derived from the French chaudière, or caldron, in which fishermen made their soups and stews on the beach with the leftover bounty of the day's catch. The classic example of this is the fabulous bouillabaisse from Marseilles.
Here in New England, chowder is most often associated with a fish "soup" to which milk or cream and potatoes are added to give it thickness and substance. And although it is usually associated with fish, it's not always the case, as in the cheddar cheese version below.
However you like it, make it, or pronounce it, nothing takes the curse off February days like the comfort of a big bowl of chowdah!
CRAB AND CORN CHOWDER
Serves 6
This is one of my favorites in the chowder category. Nothing beats fresh crabmeat, however, quality crabmeat is often available in the refrigerated section of your supermarket. Canned crabmeat sold off the shelves is a bit iffy, so be warned.
3/4 pound all-purpose potatoes
3 tablespoons butter
1 cup diced celery
1 cup diced onions
2 cups fish stock, or 1 cup clam juice and 1 cup water
2 cups cream (heavy, light, or 1 cup of each)
2 cups frozen corn kernels, thawed
3 to 5 tablespoons sherry (optional)
Salt and ground pepper, to taste
2 cups fresh or quality refrigerated crabmeat
Hot sauce or Tabasco, to taste
1/2 cup chopped cilantro or parsley
Peel potatoes and cut them into 1/4-inch cubes (about 1-1/2 cups).
---