How one San Francisco restaurant defies California foie gras ban
Sale of foie gras was banned in California on July 1. But at least one restaurant, the Presidio Social Club, is still serving it. How is it getting around the foie gras ban?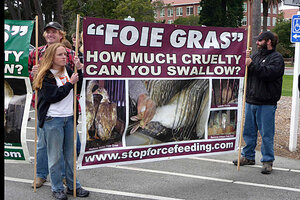 REUTERS/Laird Harrison
Housed in a converted infantry barracks on a former U.S. Army base, the Presidio Social Club never attracted much attention from San Francisco's avid gourmets -- until Saturday night.
That's when foie gras lovers descended on the restaurant to have their first taste of the delicacy since California imposed a ban on July 1.
Animal rights activists fought for the law because they detest the way foie gras is made: farmers force-feed ducks or geese to fatten their livers. Some fans of traditional French cuisine find the ban just as hard to swallow.
RECOMMENDED: 14 banned books that may surprise you
The restaurant owner, Ray Tang, and its general manager, Maureen Donegan, reasoned that the restaurant can legally ignore state law because the Presidio, now managed mostly as a national park, has remained federal property even after being decommissioned by the Army. Businesses on federal property must adhere to federal regulations, which trump state ones, they say.
Tang and Donegan timed their event for Bastille Day -- the French national day -- hired a publicist and sent out a press release.
"There are a lot of people who are upset about not being able to do something they have a right to do, so we just decided to go ahead and do it," Donegan told Reuters. "The next step was to celebrate independence."
---