Cheeseboard with marinated artichokes and spicy cherry chutney
(Read article summary)
A consideration of the iconography of cheese.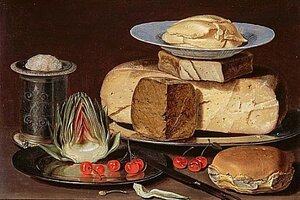 Los Angeles County Museum of Art
Cheese dates back to pre-recorded history, making it difficult to determine exactly where it was first developed. The word cheese is thought to be derived from the Latin caseus and in the Roman era, cheesemaking was already a widespread practice, with visual representations of the process even in the tombs of the Egyptians. The histories of specific types of cheese are more established as exemplified by the hard and sharp tasting cheddar. First made in Cheddar, Somerset, cheddar cheese dates back to the time of King Henry II and accounts for over half of all cheese consumption in the United Kingdom. The Italian mozzarella is a milky cheese made by heating curds that are stretched, kneaded and then cut. The semi-soft cheese, from the southern Italian regions, has high moisture content and is often consumed the day it is made. Similarly, cheese curds – the solids that form by souring milk, a common cheesemaking process – are best eaten within hours of production. Combining a selection of cheeses on a cheeseboard is best enjoyed with a helping of antipasti and spreads from pickled asparagus to onion marmalade as well as marinated artichokes and spicy cherry chutney, recipes below.
---