Corn fritters with roasted peppers, cilantro, and feta
(Read article summary)
A dish inspired by a work of art.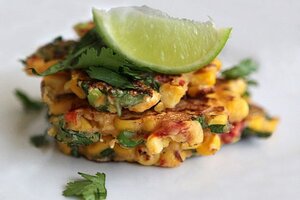 Feasting On Art
A fritter can be classified as an ingredient coated in batter and deep-fried. In my kitchen, it typically forms a rough patty, lightly fried in a skillet with a number of ingredients still visible through the crusted batter coating. According to the online etymology dictionary, the noun, not the verb, is derived from the 14th century Old French verb friture meaning 'something fried' which in turn is from the Late Latin frictura, 'a frying' (1). Precisely because of the double meaning of the word fritter, I am loathe to admit that when packing the little patties away for a beachside picnic, a few pathetic puns along the lines of 'frittering the afternoon away' made their way into my discourse.
Nora Heysen painted Corn cobs the same year she won the prestigous Archibald Prize. As the first woman appointed an official war artist, she travelled to New Guinea in 1943 where she was stationed for three years and completed 170 works depicting the women's war effort. Corn cobs demonstrates influences of Post-Impressionist art, which Heysen would have viewed during her European travels, apparent through the thick handling of the paint and short, visible brushstrokes. She particularly admired the art by van Gogh but it was Fantin-Latour, the artist featured in my previous post, who informed her earlier still life aesthetic.
---