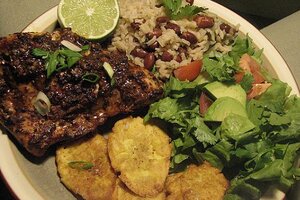 We Are Never Full
Ahhh, jerk chicken. One of my favorite dishes. It's spicy, kind of sweet and when made well should almost melt in your mouth.
Jerk was used as a way to preserve and cook meat and was originally only made with pork. Interestingly, I found that the work "jerk" comes from a Spanish word called "charqui" which means dried meat. This is how we coined the term "jerky" for that awesome, chewy and salty dried meat we can pick up in 711's or other corner stores or truck stops. Another possible meaning of the word stems from what happens to the meat when you prepare and cook it – you poke it/or jerk it to produce a hole in order to fill it with the spice mixture (which I didn't do). How about the way you cook it – you 'jerk' the meat off the coals. Whatever the derivation all I know is that it's absolutely delicious! What's even cooler is that jerk pork's origins can be traced all the way back to 1655 during the pre-slavery days of West African hunters (the Cormantees) through a group of Jamaican slaves (Maroons) that escaped from the British during the invasion of that year. The Maroons supposedly developed and perfected the jerk as a way to preserve the meat while they lived in the mountains fighting the British troops.
Nowadays, various jerk recipes are passed down from Jamaican family to Jamaican family, but each recipe always includes allspice, hot chilies, salt and various spices and herbs. Traditionally it should be grilled slowly over a wood fire made of pimento (allspice) wood, just to infuse the flavor even deeper into the meat, and continuously basted with the marinade. I enjoy oven-cooking my jerk. If you stick on the broiler for a bit at the end, you can get a bit of crisp on the skin. WHOOOO HOOOOOO… absolutely fabulous! Give it a try yourself – it's easy. Make it along with a some rice and peas and fried green plantains for the perfect balance of salty and sweet.
Jamaican jerk chicken
Serves 2 to 3
For the chicken and marinade:
---