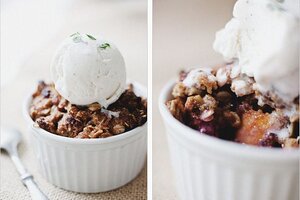 Sprouted Kitchen
Our pastor is requiring us to write promises to each other for the wedding, and read them aloud. It's just part of his program, it's not an option, and I do agree with the reason that it personalizes the ceremony. I enjoy writing personal things, but the thought of speaking in front of 138 people, a paragraph that will relay my commitment, gratitude and humbleness towards marrying a man I am wholeheartedly crazy about, is a bit daunting.I've been brainstorming, and am taking note of every emotion that passes in these next few weeks.
We just found a place to live recently, Hugh is moving in next Tuesday, and there is a warmness I feel in anticipation of having a home with him. It will be our place – a place we get to wake up, drink coffee, read books, work together, tell secrets, enjoy friends, stay up late watching movies and all else that fills our days. Sure, we don't exactly own any furniture at this moment, but I'm actually excited to eat canned soup on the floor while we don't have a table, a stocked kitchen, or unwrapped pots and pans. Isn't that all part of the endearing cliche of being a newlywed? My point is that just as a school is a place where you learn a home is a place where you love and I CAN'T wait. We won't be in this place forever, but the intangible parts of building a 'home' begin now.
So cheers to home; the occasion calls for a treat like this. The perfect combination of ingredients as we transition from the end of summer towards the beginning of fall. It's something perfect to share, and regardless of where you live, a crumble tastes just as wonderful on the floor of a new apartment as it would on a pretty kitchen table.
Peach and blackberry crumble
Makes 6 small ramekins, 4 large, or 8×8-inch pan

You could use more or less honey depending on the sweetness of your fruit. I got the tail end of these summer fruits, so I found this measurement to be a perfect compliment to their sweetness. There is flexibility in this recipe – you can use any citrus juice for the orange, your nut of choice, or another flour you have on hand. This could easily be a vegan crumble by substituting the one egg white for a bit of flaxseed meal, and topping it with a non-dairy frozen treat.
3 Peaches (about 1 lb)
2 cups blackberries
1 tablespoons fresh orange juice
2 tablespoons fresh thyme leaves
2 tablespoons whole wheat flour
1/3 cup honey
---