Sautéed chanterelles with cream and linguine fini
(Read article summary)
Linguine with foraged chanterelles from Seattle, cooked in Chicago.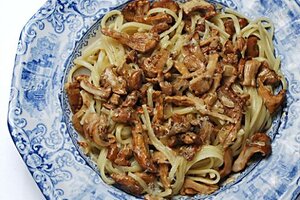 Blue Kitchen
The day before Marion cooked these chanterelles in our Chicago kitchen, they were in a stall in Seattle's Pike Place Market. Not much more before that, they had been in a nearby forest. We were in the market on the last morning of our first visit to the Pacific Northwest. Our luggage was already overstuffed with food purchases, many in glass containers padded with laundry in the hope they would survive the flight home. But when we saw these mushrooms, we knew we had to squeeze some into our carry-on bags. I'll turn the kitchen over to Marion now and let her tell you what she did with them.
In another earlier life, I used to gather chanterelles in the wild all summer. It was such an everyday thing that I took it totally for granted. It was part of the season, like swimsuits and the beach. I would be driving along some gravel country road through a spruce forest, and pull the car over, grab a bag or basket and walk around for 20 or 30 minutes until I had found enough.
Species of chanterelle grow across North America and Europe. Here in the Midwest, golden chanterelles are available in summer; in the Pacific Northwest, they fruit from about September to March. Closely related species may be gathered in Europe, too. They can't be cultivated, so every chanterelle you see in a market has been foraged in the wild. Throughout their range, the best place to find them is under conifers. In Nova Scotia, I used to find them under spruce and hemlock. I hear that in some parts of North America, such as Texas and California, they associate with oaks.
---