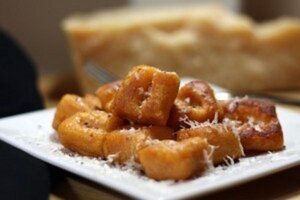 Three Many Cooks
A year ago, I was almost purely a special occasion cook. I knew how to choose a good recipe out of the thousands on the Internet (or just flip to a page in one of Mom's books). And I knew how to follow the recipe to get good results. Always aiming for the perfect, impressive, and complicated, I would prepare course after course, search for expensive wine, buy flowers, light candles, and set the table. Though mostly pleasurable, cooking was always such an ordeal.
But, it stands to reason that if something is difficult, you probably don't want to do it very often. Over the last 12 months, however, I've been converted. Weeknight cooking is now my mainstay, and I continue to be surprised by how good it can be. I love the fast pace, the time constraints, the experimentation, and the screw ups.
But every once in a while, I still love to forget time and schedules and cook with complicated, impressive, ridiculous abandon. There is nothing like that overwhelming feeling of delight and pride when you take a bite of something you've so carefully made – surrounded by nice dishes, soft candle light, and good wine – and it's just so freakin' good. (And it ain't bad when people tell you so, either.)
Last weekend was Dad's birthday. With Mom and Maggy away on book tour, it was up to me to make sure Dad wasn't alone – or worse, hungry – on his birthday. I figured a birthday was a better excuse than most to pull out all the stops.
For years I've wanted to attempt homemade gnocchi, and with autumn on its way, the idea of sweet potato gnocchi was absolutely stuck in my head. Tony's Italian grandmother has taught him the simple art of gnocchi-making, so I figured with his knowledge and my enthusiasm we couldn't fail. And let me tell you, we didn't. The process was actually quite simple, and the finished product was unspeakably good – soft, light, savory pillows nestled up with sage, browned butter, and Parmigiano.
---