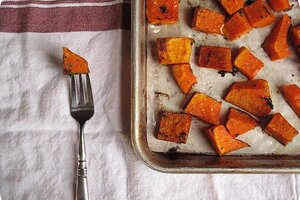 In Praise of Leftovers
Barely keeping my eyes open to write this. Really – how pathetic! Surely a report on roasted squash can wait. But today was one of those days just begging to be recounted. Me and the kids met Bethany, Chris, and family up at Gordon's Pumpkins, we stopped at the fire station to visit Yancey on the way home, had the world's most perfect apple, then had dinner with Emily and Ricky, where I used the squash for our pizza. All day long, I was under the October sun, aware there won't be many more days like this for awhile, and just feeling in my skin.
I wrote about Gordon's last year and it's easy to be even more superlative this year. What a riot of color! Drowning in pumpkins, gourds, squashes of every imaginable shape and persuasion, kids hauling back giant jack-o-lanterns from the field, everyone awash in harvest and abundance. I'm glad things grow from the earth, that farmers tend them, and they end up in my arms. Gift after gift.
And if you come home with too many squash for your own good, you should store them in a cool, dry place (like a covered porch) and try cooking them this way. You can keep the roasted squash in the fridge and pull it out for pizza, pasta, soups, burritos, or panini. Tonight, I scattered the chunks over pizza dough with sauteed kale, chevre, fresh mozarella, and fresh thyme.
Perfect roasted squash
---