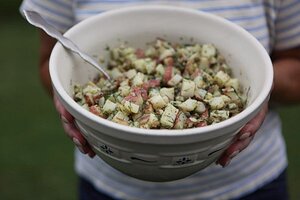 Feasting On Art
Dating all the way back to the 16th century, potato salad was brought by the Spanish from the Americas to Europe. Their version was made by boiling potatoes in vinegar or wine – giving the starchy and often stodgy food a light and sour twang. The German variety, also made with vinegar was Americanised in the early 20th century via a generous dressing of mayonnaise (1). With my recipe, I wanted to recall the original tart flavour of the dish layered with sweet and salty ingredients, taking this salad beyond typical cook-out fare. This is my go-to recipe, scrawled on a stained and creased recipe card, copied and saved years ago from a long-forgotten source. The use of fresh dill is a necessity – not only for the taste, but also the smell when it is tossed with the hot roasted spuds.
Cornelius Hankins was an American artist working in the late nineteenth-century. He was predominately known for his portraiture with a major commission around 1900 to paint posthumous portraits from photographs of Confederate generals. Ironically, it was from Confederate soldiers early in his life that Hankins contracted smallpox and was left deaf until the age of eight. He painted alongside William Merritt Chase in New York City and Chase's characteristically dark still life paintings appear to have influenced Hankins' Still Life with Potatoes in both palette and composition. The gleaming light upon the pot rendered by Hankins is remarkably similar albeit a bit more restrained to that in Chase's Still Life with Pepper and Carrot painted approximately two years earlier.
Roasted potato salad with a mustard-dill vinaigrette
10 red potatoes, washed and cubed
1 cup capers, rinsed
1 cup vegetable oil
1-2 cup mustard-dill vinaigrette (recipe below)
1 cup fresh dill, chopped
1 tablespoon ground black pepper
1 tablespoon salt
---
Follow Stories Like This
Get the Monitor stories you care about delivered to your inbox.